Batter up! Girls age 5 - 12 are eligible to sign up for Junior Giants Softball. Visit gojrgiants.org for more information. ¡Agárrate! Las niñas de 5 a 12 años son elegibles para inscribirse en Junior Giants Softball. Visite gojrgiants.org para obtener más información.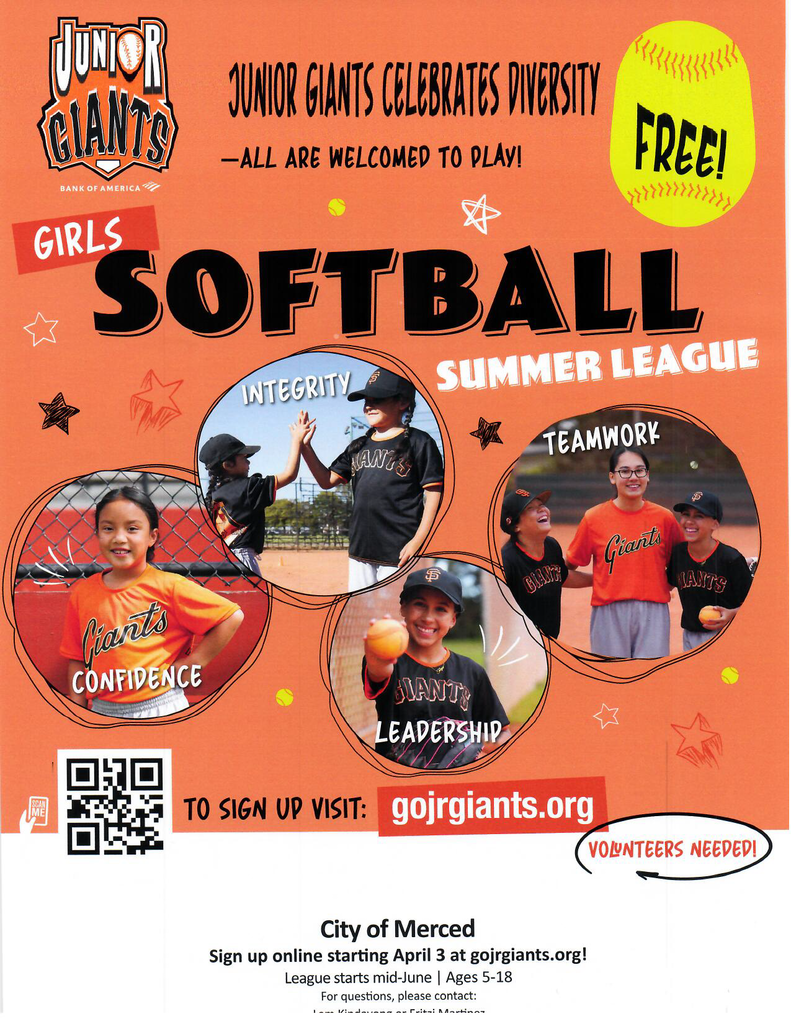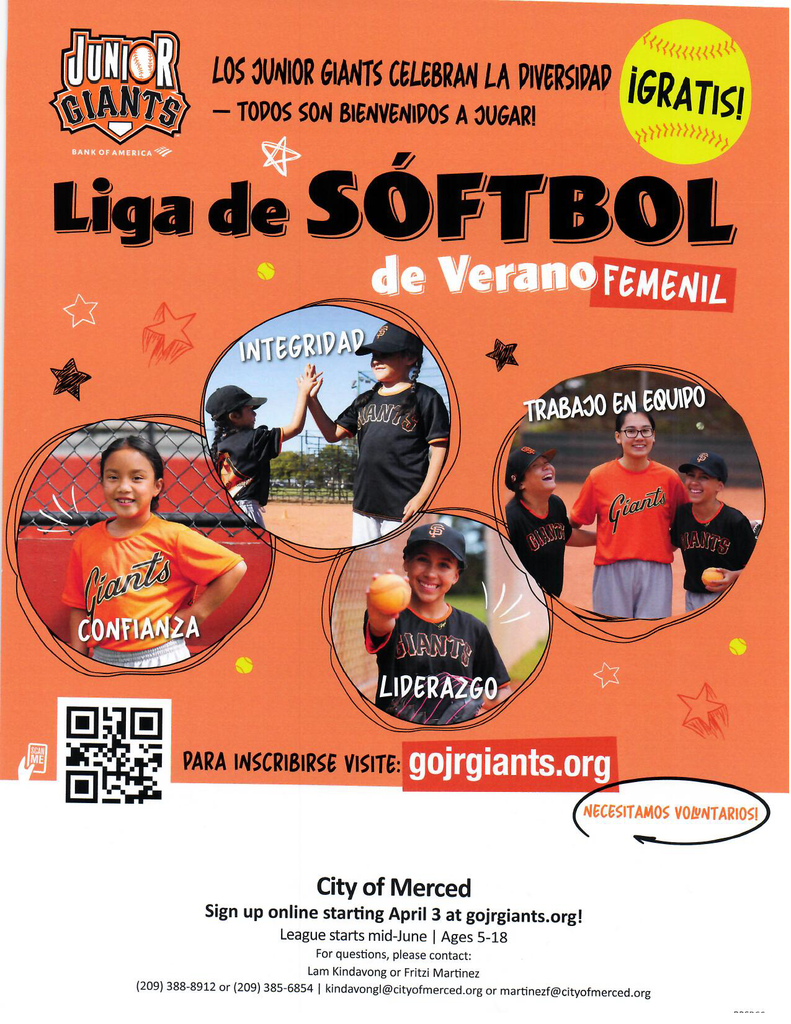 It's time to play ball! Children age 5 - 12 are eligible to sign up for Junior Giants Baseball or Softball. Visit gojrgiants.org for more information. ¡Es hora de jugar a la pelota! Los niños de 5 a 12 años son elegibles para inscribirse en Junior Giants Baseball o Softball. Visite gojrgiants.org para obtener más información.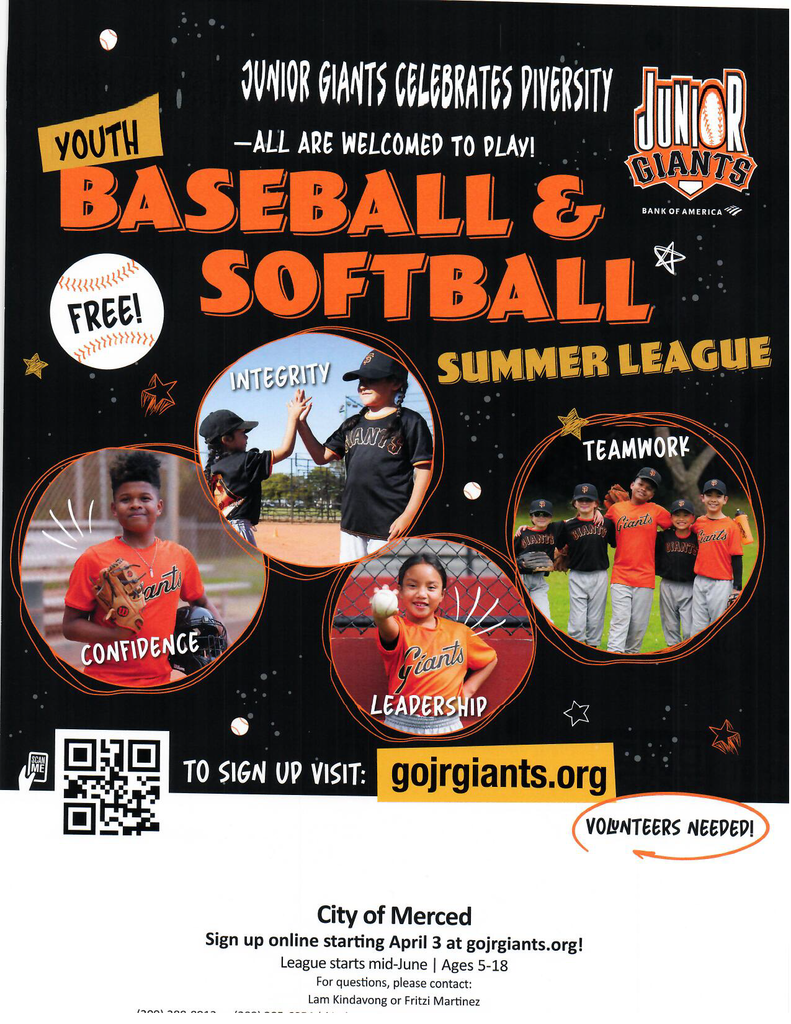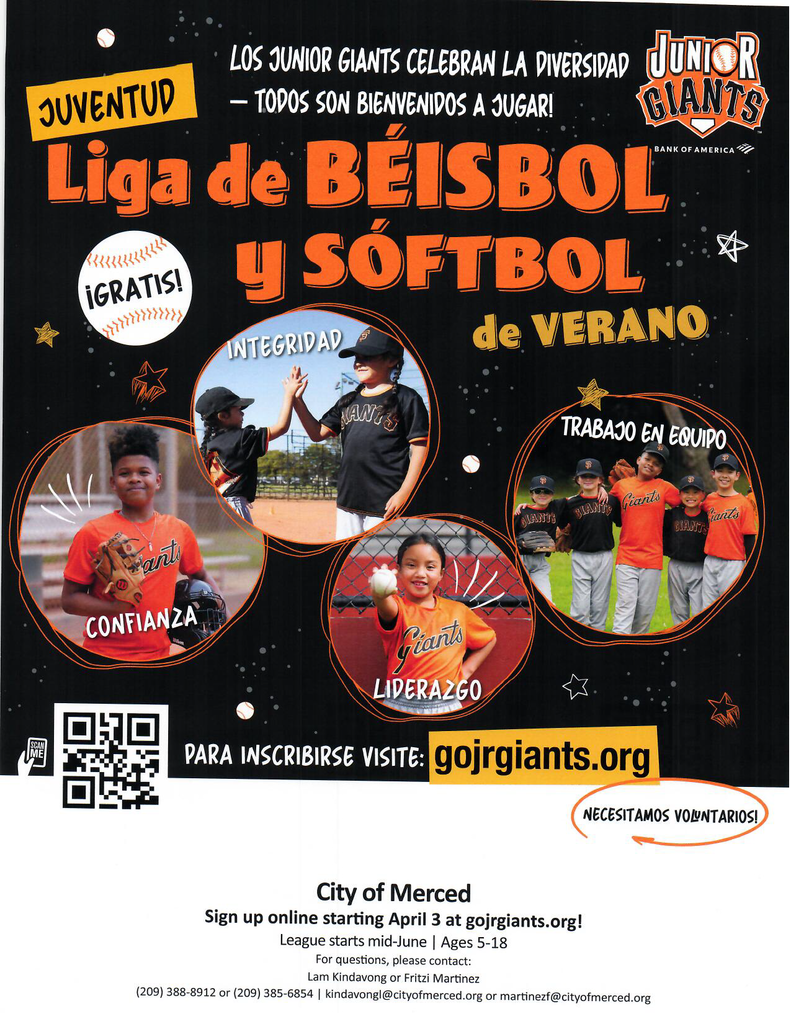 All parents, staff, and students are invited to attend the next Wellness Committee Meeting.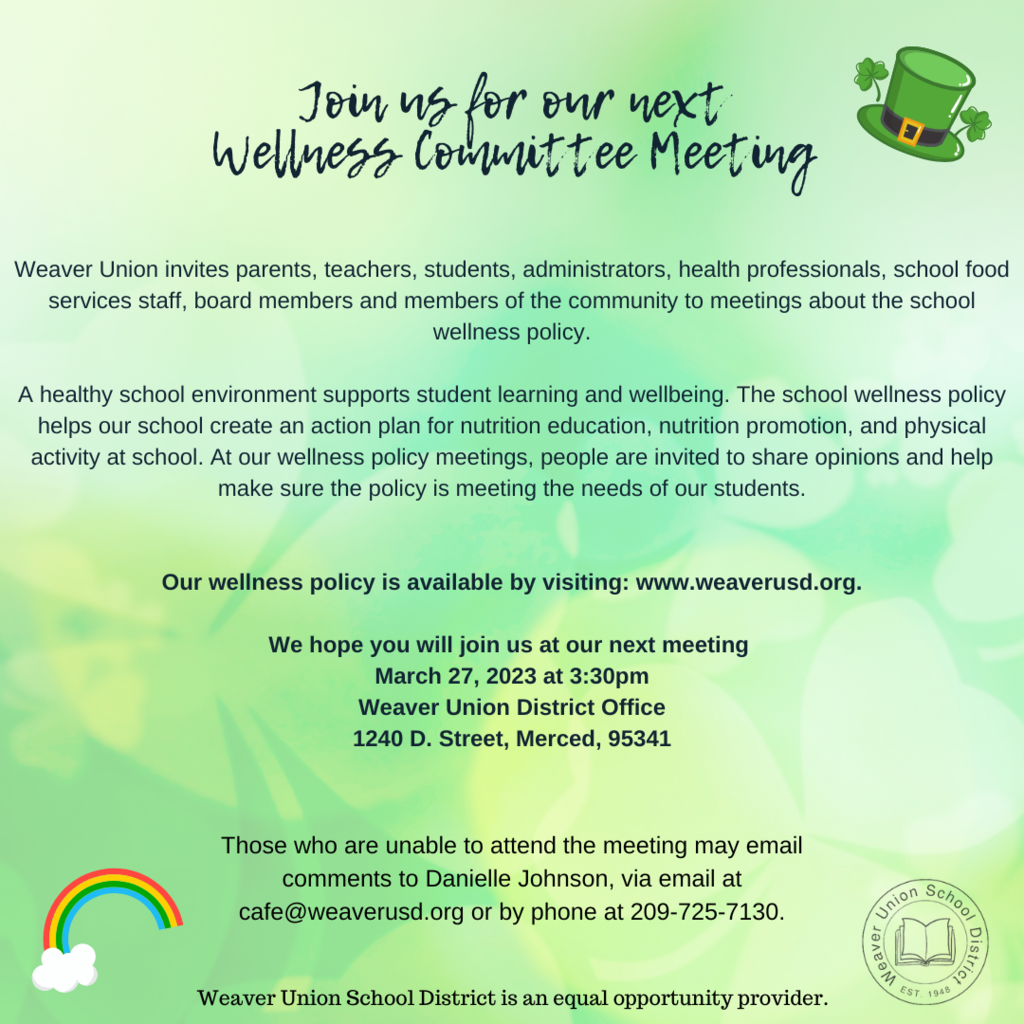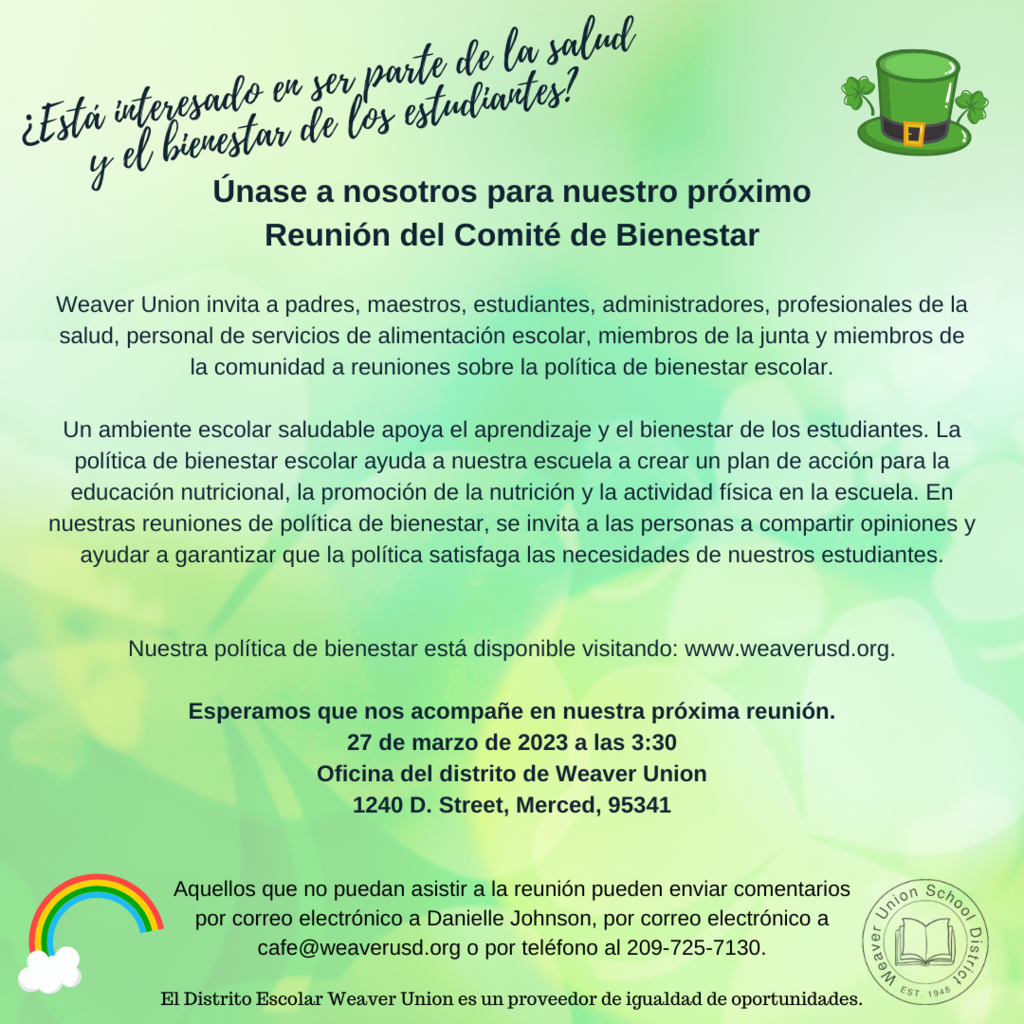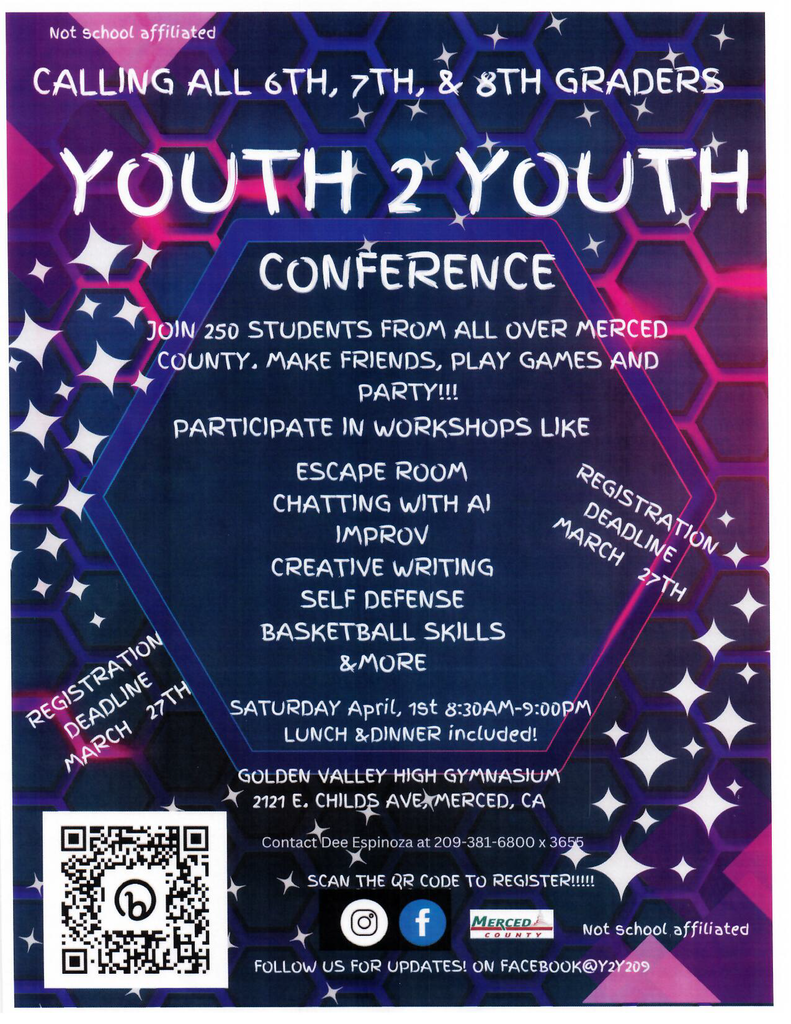 Due to the quickly changing nature of this event, we would like to encourage residents to register for Emergency Alerts. Residents are also asked to sign up for flood information by texting "MCFLOODS" to 888777. Registered at the link below to receive emergency notifications through the Merced County Emergency Notification System. To sign up, go to
https://bit.ly/3ZJylWL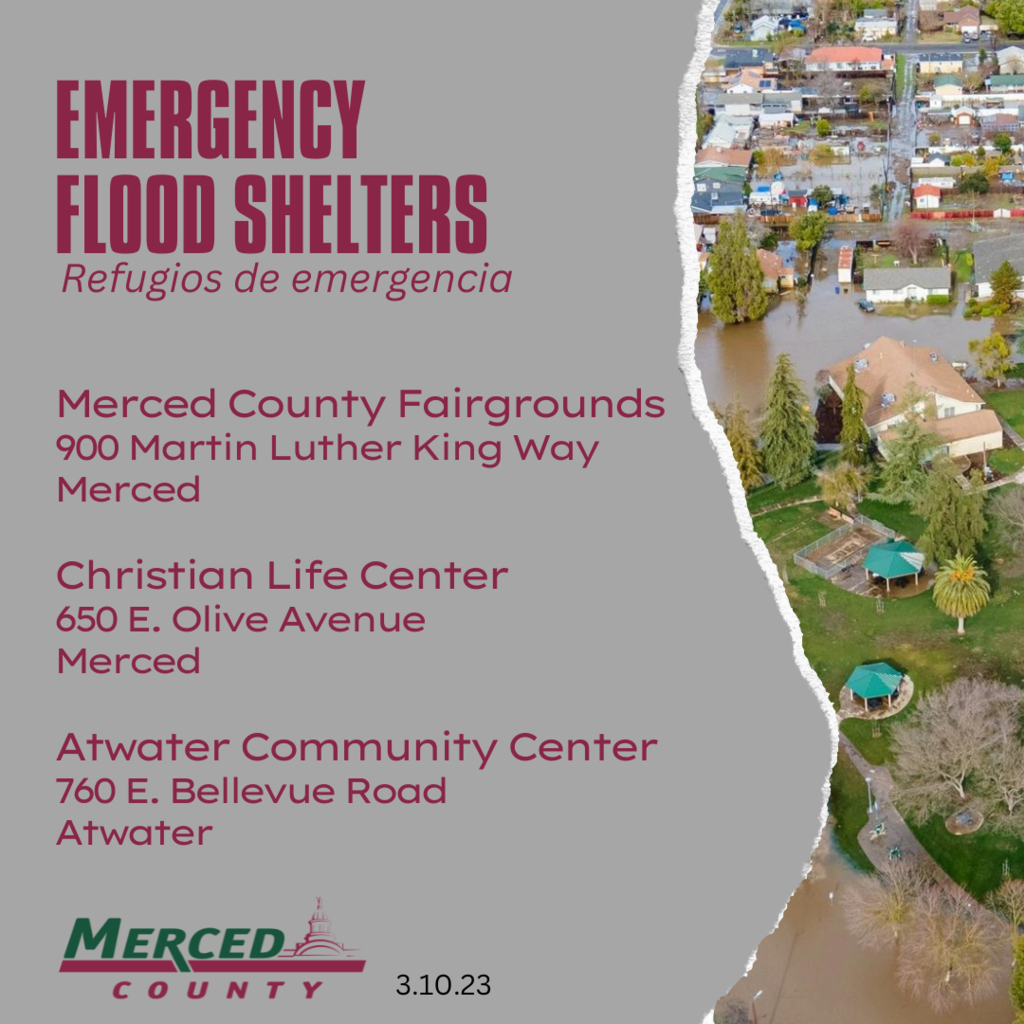 Starting today, the Merced County Flood Hotline, 209-385-7563, will be staffed daily from 8:00 am - 5:00 pm to answer all flood-related questions. After hours the flood hotline will provide detailed resource information for available emergency shelters, road closures, sandbag locations, pothole reporting, and emergency notification. After-hours resource information is provided in English, Spanish, and Hmong.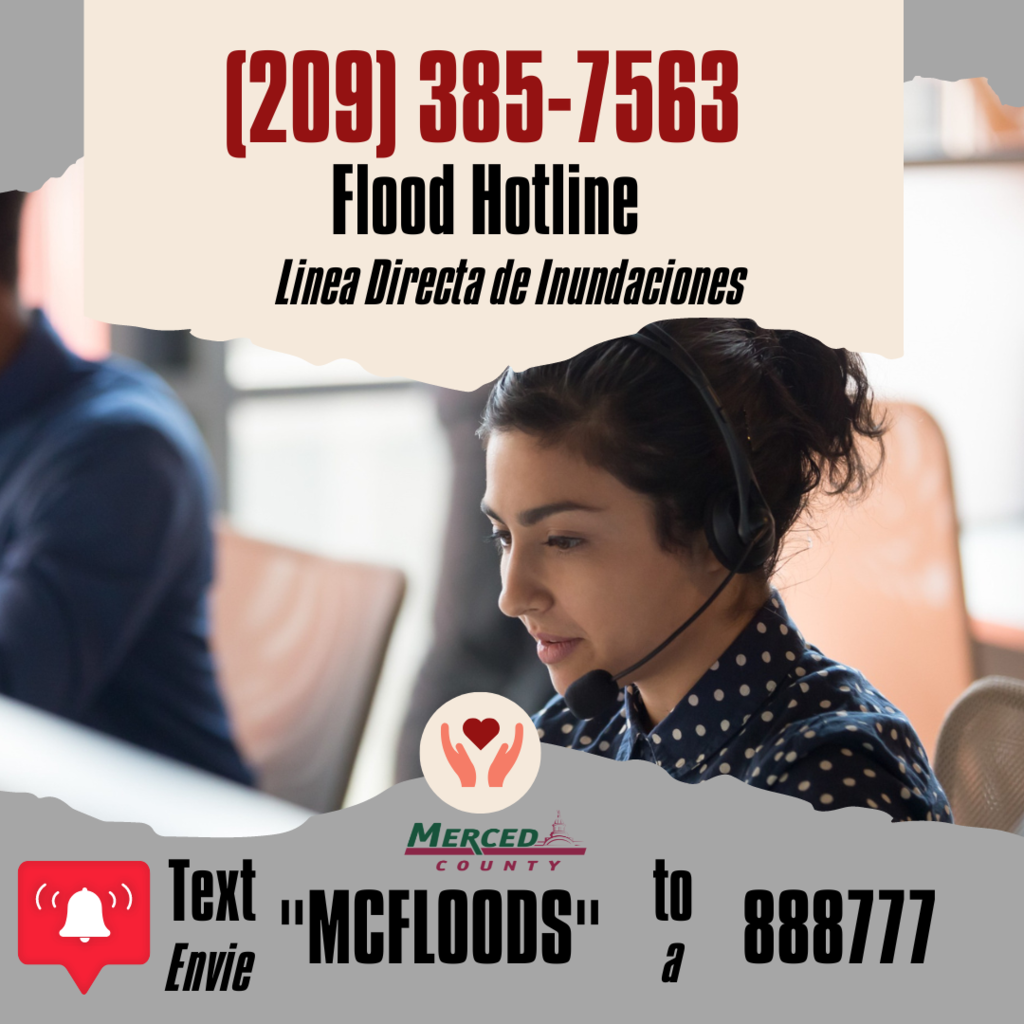 The following is a message from the Merced County Emergency Notification System: Central California is bracing for another powerful storm system to hit the region on Thursday night and continue into Saturday night, so we're making it easy for residents to stay updated on forecasts, stream hydrology outlooks, flood preparedness resources, and road closures. Please utilize the information provided to assist you through these storms, and to receive timely information about current or future weather events in Merced County, text MCFLOODS to 888777. Another important reminder is to ensure you have registered to receive emergency notifications through the Merced County Emergency Notification System. To sign up, go to
www.countyofmerced.com/alert
. Here is a link to Resources/information:
https://docs.google.com/document/d/1o07b71y1BqEnEWxzz2pb3kNeGLBjctTxYEmyebyTBNk/edit?usp=sharing
El centro de California se está preparando para otro poderoso sistema de tormentas que azotará la región el Jueves por la noche y continuará hasta el Sábado por la noche, por lo que facilitamos que los residentes se mantengan actualizados sobre pronósticos, pronósticos de hidrología de arroyos, recursos de preparación para inundaciones y cierres de carreteras. Utilice la información provista para ayudarlo durante estas tormentas y para recibir información oportuna sobre eventos climáticos actuales o futuros en el condado de Merced, envíe un mensaje de texto con "MCFLOODS" al 888777. Otro recordatorio importante es asegurarse de que se haya registrado para recibir notificaciones de emergencia a través del Departamento de emergencias del condado de Merced. Sistema de notificaciones. Para registrarse, vaya a
www.countyofmerced.com/alert
. Aquí hay un enlace a Recursos/información:
https://docs.google.com/document/d/1ZDofXLku7Haug_y6CzUPV_mX2_rK66yPcWRLTYCi8eU/edit?usp=sharing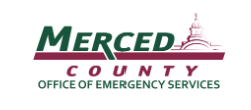 All Weaver Union School District schools will be open tomorrow (Wednesday, January 11, 2023) and all bus routes will be operating on their normal schedule. If any bus stop is under water, please proceed to the next nearest stop that is safe. If there are any further updates, we will advise families and staff as information becomes available.

School is canceled today for the entire Weaver Union School District due to the weather emergency and localized flooding. Do not send students to school and please stay off of the roads. We will give an update later in the day as we know more.

All Weaver USD schools are closed today, 1/10/23. Stay safe.

The 2023 Board of Trustees Meeting Schedule has been posted on our website. We welcome parents, WUSD staff and community members to attend our meetings on the 2nd Wednesday of each month! You may view the meeting schedule or subscribe to receive the agenda via email using the link below:
https://www.weaverusd.org/page/board-meetings

The agenda for the upcoming Weaver Union School District Board of Trustees meeting has been published on Diligent Community. Our next meeting will be: Wednesday, November 9, 2022 at 6:30 p.m. in the Weaver Middle School Library. The public is always welcome to attend. You may view a copy of the agenda here:
https://weaverusd.diligent.community/Portal
Use the same link to subscribe for notification of the monthly meeting agenda.

Hey Weaver USD Parents! Looking for something fun to do with your kids during our break? Check out this list of museums that families can access for free or very reduced rates with your EBT card. Admission to the participating museums is $3 or less for up to 4 people! You can stay close to home and visit the Kids Discovery Station located right here in Merced across the street from Merced College. We also recommend visiting the San Jose Children's Discovery Museum ($2 for admission with EBT card) or The Tech Interactive just down the street ($1 admission with EBT card). Feeling even more adventurous? Try visiting the San Francisco Exploratorium for FREE with your EBT card. Don't forget the California Academy of Sciences! ($3 admission with EBT card) To find more participating museums, check out
https://museums4all.org/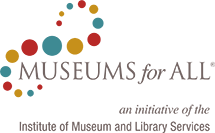 This morning a Weaver Middle School student was attacked by an adult male on their way to school. The incident was NOT on the campus and at no time were any other students in immediate danger. The student was able to escape the attacker and immediately go to the school. Weaver Middle School staff immediately called 9-1-1 and increased perimeter monitoring of the campus. Both Weaver Middle School and Pioneer Elementary School went on a precautionary lock down until approximately 10:00 AM. We are working with law enforcement on the incident with the primary goal of apprehending the suspect and providing support to the victim and family. We will provide more details when we are authorized to do so by law enforcement. The school is implementing additional security measures over the next few days to extend our supervision into nearby neighborhoods. John Curry, Superintendent

Dear Pioneer Elementary Parents- all Child and Luke stop parents, Your bus stop has changed to Medieval St, just around the corner from your regular stop at the 2nd house. The time will be the same, but the driver might run a little behind due to having to go around to get to you, but she will be there. This also goes for the afternoon route. Sorry, for the late notification, but my information did not get out to you all this morning for the AM route. So Sorry, for all the confusion and headache and thank you for all your help and patience!

Tune in tonight (Wednesday, August 10, 2022) to YouTube Live to view the live stream of our August School Board Meeting.
https://youtu.be/A7PnRFNGySM

NOTICE OF PUBLIC HEARING AND OF PROPOSAL FOR IMPLEMENTING SCHOOL FACILITIES FEES AS AUTHORIZED BY EDUCATION CODE SECTION 17620 AND GOVERNMENT CODE 65995 PLEASE TAKE NOTICE that immediately following a public hearing on the matter, as proposed resolutions(s) will be considered by the Governing Board of Weaver Union School District at its regular meeting on AUGUST 10, 2022, at 6:30 p.m., in the Weaver Middle School Library, located at 3076 E. Childs Avenue, Merced, California 95341, which if adopted by the Board will implement development fees established by the District against residential construction and reconstruction at $4.79 per square foot and against new commercial or industrial construction at $0.78 a square foot. Education Code Section 17620 and Government Code Section 65995 authorize the proposed fees. Data pertaining to the cost of school facilities are available for inspection during regular business hours at the District's administrative offices, located at 1240 D Street, Merced, California 95341. The fee, if approved by the Governing Board, will become effective on OCTOBER 9, 2022, which is 60 days after the proposed adoption of the resolution levying such fee by the Governing Board.

Hello, Weaver families due to a garbage truck that tore down some wires here in our transportation area the school buses are trapped inside our area and cannot leave. PG& E have been called an are on their way, but unfortunately we are on their time schedule and we do not know how long it will take for them to send someone out to let us leave. So please be patient with us and keep a look out for your school bus. We will be there but we will be running behind. Schedule. Thank you so much for your help and if you have any questions please free to call our office 209-725-7118. Weaver Transportation.

As a new school year begins tomorrow, we want to remind our families, students and staff of what to do if your student tests positive for COVID-19. Any COVID-19-related questions or concerns may be directed to our District Nurse, Mary Piniol at
covid@weaverusd.org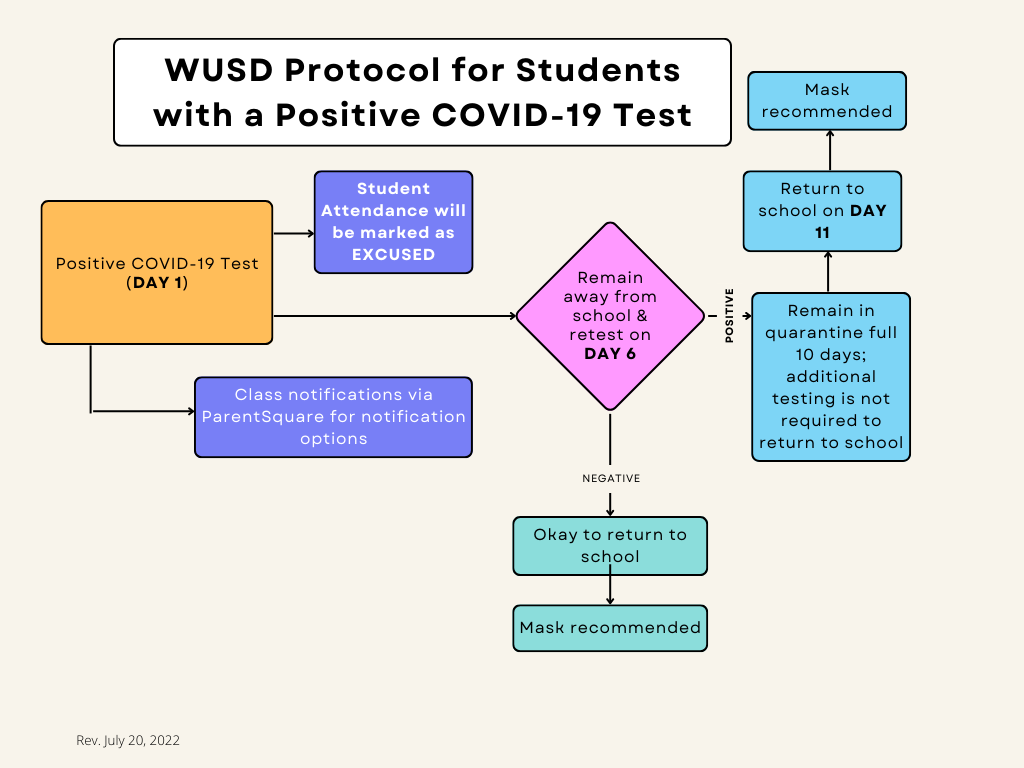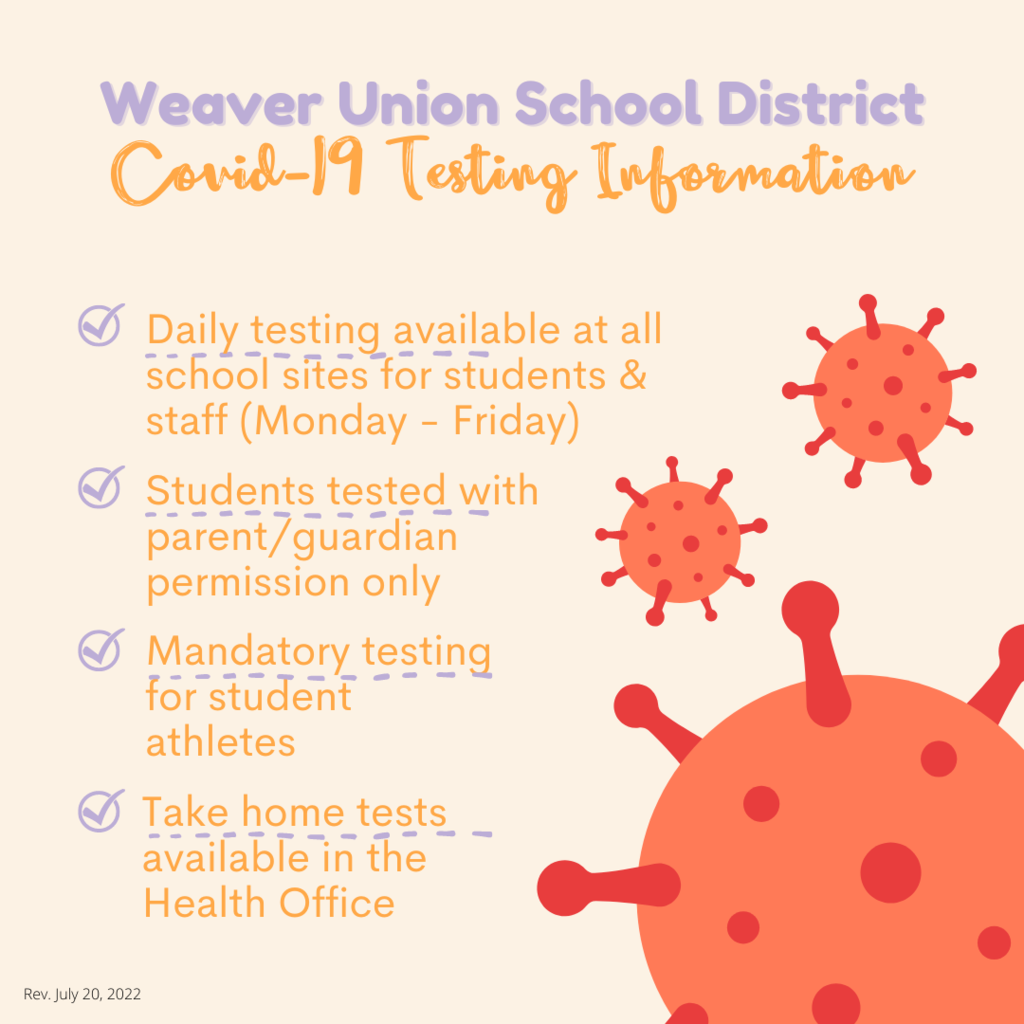 NOTICE TO PARENTS/GUARDIANS Weaver Union School District and Merced County Office of Education will be performing maintenance on our internet and telephone equipment from: Thursday, June 30 through Tuesday, July 5, 2022 There will be no telephone service or computer network access at any WUSD school sites or the District Office during this time period. We apologize for any inconvenience this may cause.